Free 1 Hour Masterclass: how to make an online survey,
for policy advisors in small island economies
Are you a busy policy advisor living on a small island economy?
I train and coach aspiring policy advisors and policy advisors in small Island economies to create great policy notes, manage great projects and be seen as the expert in their fields so they get a better paycheck and feel on top of the game. They can then manage their career and spend more time with their families.
Do you have the following problems: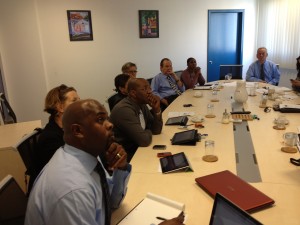 You miss important deadlines
You feel you are not always in control
You have many tasks to do and sometimes you forget important tasks
Your desk is piled with folders, you don't always find important information
You run many projects with scarce resources
You have to collect, analyze and report on large number of data
You have several spreadsheets with information all over the place
You have a challenging boss or challenging stakeholders
You have to plan the future, forecast figures and discuss with people around you
If these sound familiar you have arrived at the right place.
What is this website about?
On this blog I give regular tips and share practical tricks and ideas to help you become the expert you want to be, help you to share more time with your family and help you realize your dream plans. That's it. My contribution to your succes. I train and coach policy advisors in small island economies. At the right you see many articles with tips and tricks to help you.

Free Masterclass Online as a gift to you
Subscribe now to get a FREE 1 HOUR MASTERCLASS about
How to set up an online survey. This is a free gift for you to get your started right away. You only need a free gmail account and you can start collecting information right away.
In this Free Masterclass you will learn easily:
How to set up an online survey step by step
How to make all types of questions
How to send this survey to your participants
Many tips and tricks to make your online survey succeed.
"I was struggling with a survey and you really helped me, thanks Runy", said Jeff Daniels, policy advisor in Bahamas
"I did not know that you could run online surveys for free", Mariah Cavales, senior advisor, Santo Domingo
"Set up right away, when is the next free masterclass", Anna Pierson, junior advisor, Barbados

How do you get this free one hour gift from me?
Just fill in your name and email in the blue box at the right and you will get the masterclass right away. After confirmation you will get a link to the free Masterclass and you will be on your way collecting information.
On the Iphone or IPad? Scroll down. Switch mobile theme off. After refresh you see the blue form to subscribe.
Does not matter if you need to send our 1 questionnaire or 1000. It's easy.
Regards,
Runy Calmera, Msc. Eco.